Lumini Skin Care Analyzer
The Lumini skin care analyzer is the latest innovation in beauty artificial intelligence. It uses patented AI skin analysis technology to scan the face in a snap and recommends cosmetic products optimized for the individual by considering the products ingredients and information.
Latest Innovation In Beauty AI Lumini delivers a significantly improved experience for aesthetic and skin care consultations. Sell more skin care treatments more effectively with clear recommendations combined with the visual impact.
Lumini Kiosk V2
Lumini Kiosk V2 is an AI skin analysis machine in the form of smart mirror that accurately analyzes the entire facial skin in a snap through deep-learning based AI technology. This beauty kiosk recommends the most suitable skincare products and emails those products with a report that can be printed for each user. The unparalleled technology holds value in the beauty industry, and it has been fully recognized by winning CES Innovation Awards for four consecutive years.
AI Skin Care Analyzer Benefits
Diagnose skin conditions by indicating the area that needs concentrated care
Increase purchase rate through targeted marketing with patented beauty ai technology
Recommend the most suitable products for the customer by using the skin product database.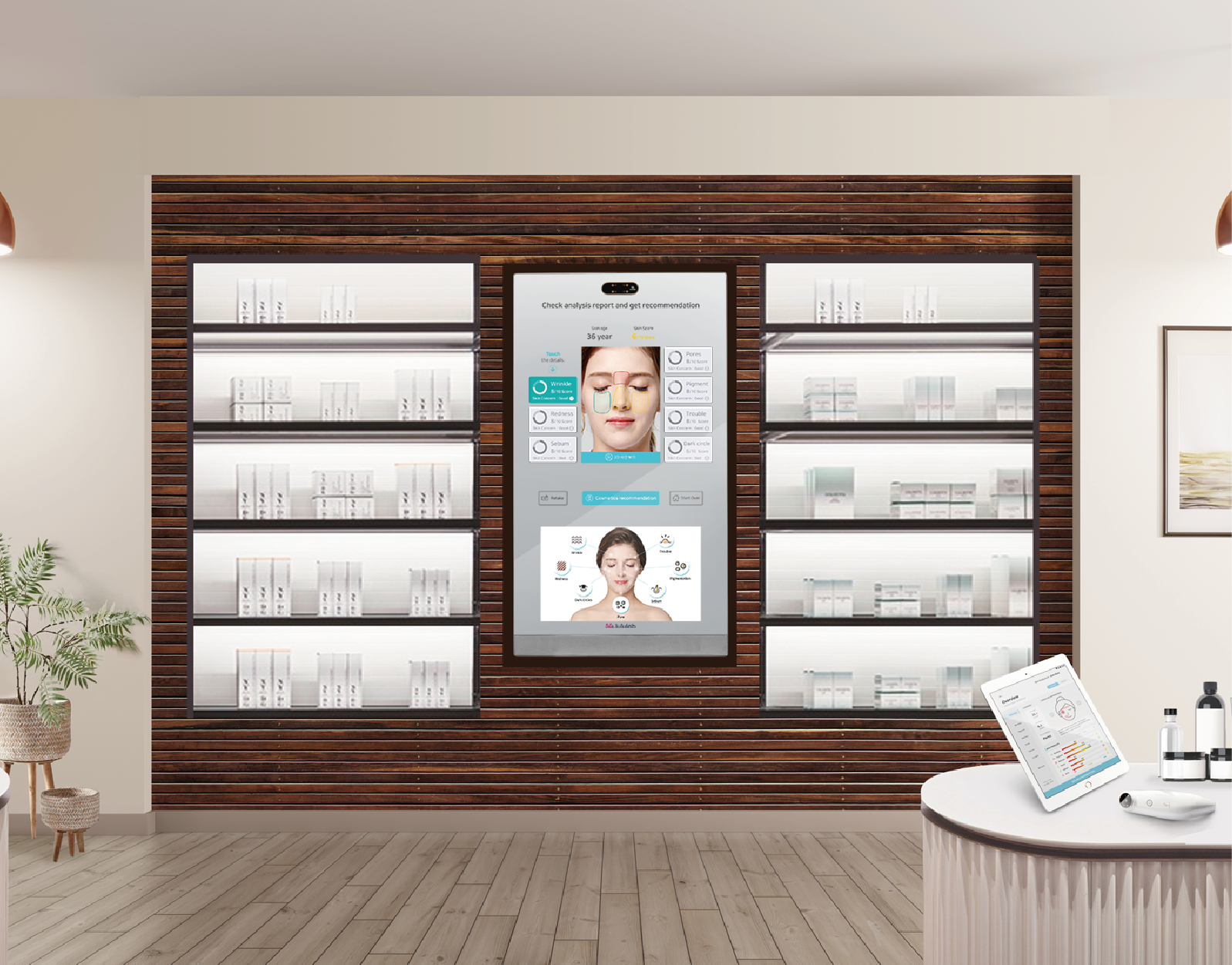 Redefining The Vision of Skin Care AI Skin Care Assistant For Stores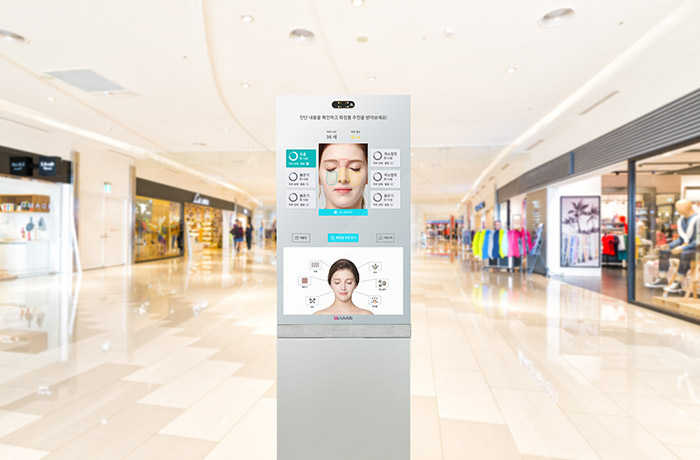 AI Captures Face in Real Time with Age
AI-based big data estimate real-time age of user by scanning the face automatically. Beauty kiosk detects skin data using Lumini's special lighting and correction technology.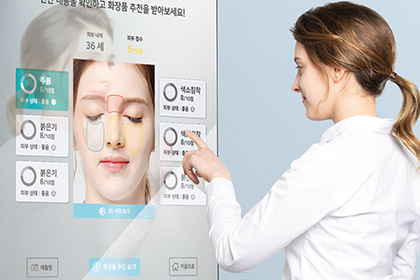 Deep Learning Based Skin Score
Deep learning AI technology provides skin age and skin score on 7 categories. These skin care categories include spots, texture, pores, wrinkles, pigmentation, redness and dark circles.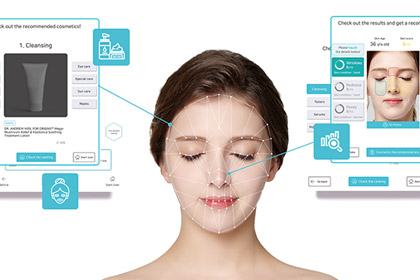 AI Cosmetic Recommendation
Personalized cosmetic products are recommended based on the skin condition after analyzing ingredients and formulations of the products in the database.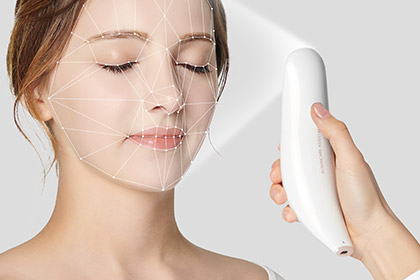 Visual Analysis Algorithm
Cross-polarized and UV lighting are used to record, measure, and analyze surface and subsurface skin conditions. This provides the most complete data set available for sun damage, hyperpigmentation, and more.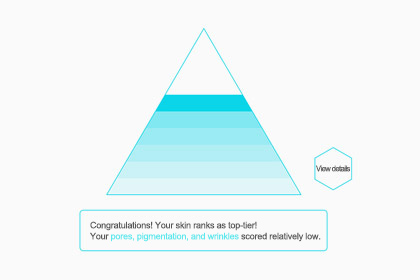 AI Skin Ranking System
Skin ranking systems is provided by comparing the skin condition with the people of the same age group based on the big data from around the world.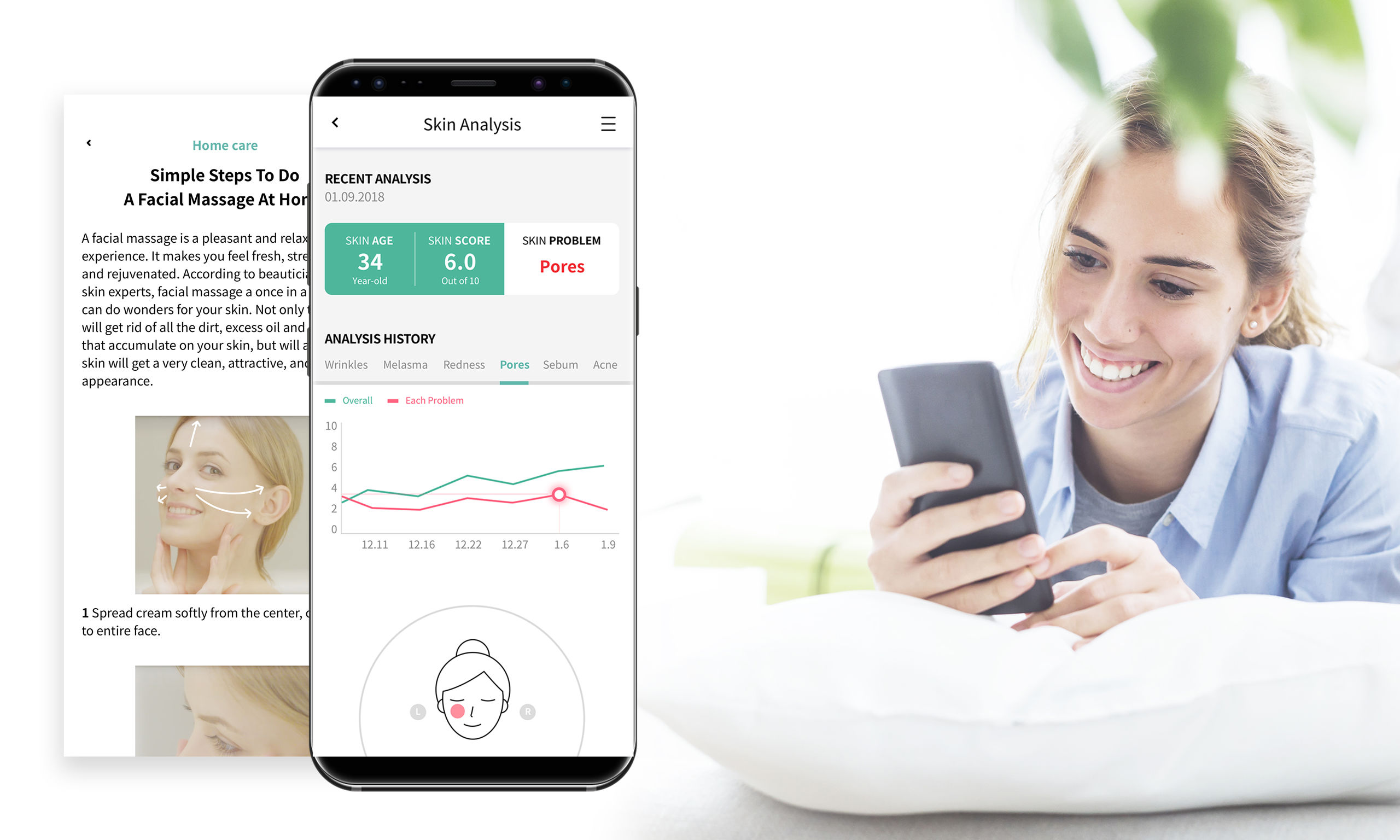 Online-to-Offline Commerce
Personalized reports are sent through e-mail or text to the users. User will be able to purchase recommended products by clicking on the report and visiting product homepage.
Blog / News Discover all the latest about our products, technology, and culture on our blog.
Customer Testimonial Reviews Find helpful customer reviews and review ratings from our customers below.
I recently purchased the Cryolyft Pro machine from The Spa Butler. This was the first time I have done business with them. Absolute top-notch customer service from the time I sent my first email to the ultra fast delivery. The Cryolyft Pro was in the precise condition as represented and described. I am truly happy having met this company and would not hesitate to purchase another body shaping machine from them at any time.
Recently decided to purchase the HIEMT Body Shape when choosing an additional service for my med spa business and I absolutely love it. The results are amazing and my clients are satisfied. 5-Stars!!
I was looking for a body shaping machine and after checking out different companies I decided to buy the Cryolyft Pro from Spa Butler. It's by far the best decision I have ever made. The buying experience, client results, and profit margins from this device is incredible. And to think I was going to go with another company. That would have been a huge mistake! Thanks guys, I love my Cryolyft Pro!