The CryoStorm is a cryotherapy facial machine used for localized cryo spot treatments, beauty facials, and laser treatment cooling without interfering the laser beam emission. This localized cryotherapy facial machine for sale is specifically designed for reducing pain, redness, swelling and thermal damages caused by laser treatment, Intense Light (IPL) treatment and radio frequency (RF) treatment through direct applications of sub-zero degree temperatures.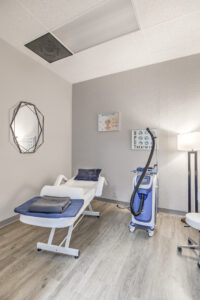 CryoStorm is designed to fit all your application needs, distinguished by its creative design, cost effectiveness, safety controls, and ease of use. The design is developed to optimize your production and output through innovative features without nitrogen:
Award-winning all electric system with zero nitrogen consumption
Powerful cooling air temperature (-20C)
Local targeting capability from the nozzle to the treatment area
Auxiliary arm supporting the cryogenic hose for ease and comfort of use
Highest safety standards through ISO & CE certifications
Localized Cryo Device For Sale
The CryoStorm features cooled air for efficient pain treatment, swelling reduction and muscle relaxation. The system enables cryotherapy with precise placement and at a constant dosage, every time. The device uses no consumables and delivers high power. This enables a quick decrease in superficial skin temperature, while maintaining the ability to operate all day.
Unlike other portable cooling methods, such as contact cooling, cryogen spray or ice packs, the Cryostorm decreases the skin temperature quicker, with less risk of skin burns and keeps a constant dosage throughout the entire treatment time. The portable cryotherapy device also combines convenient storage and a space-saving design.
It's simple to attach the cryotherapy hose to the optional articulating arm. After attached, position the articulating arm over the desired area. Clients will receive instant cold air relief and the operator will benefit from hands-free use of this cryotherapy facial machine for sale.
Cryostorm Information