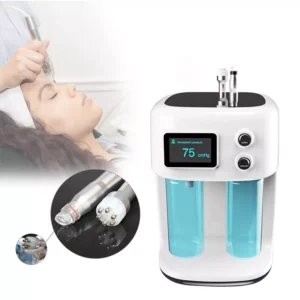 The 2-in-1 SkinPro hydrodermabrasion machine works like a miracle: delivering (RF) radiofrequency therapy and hydrodermabrasion in just one beautifully designed, high-tech piece of equipment. Now, you can combine two highly demanded services into one machine to maximize profit, efficiency, and comfort.
SkinPro features:
Hydrodermabrasion
Radiofrequency Therapy
Additionally, the SkinPro hydrodermabrasion machine has two built in containers: one to fill with serums/solutions of your choice and one and for waste products—so your work can be mess-free and organized.
Shipping, Training & 3 Year Warranty Included
Specifications
Vacuum Pressure: 85 Kpa
RF Frequency: 3MHz
Voltage: 110V
Weight: 16lbs
Size: H15″ D14″ W10″
What is hydrodermabrasion?
Hydrodermabrasion is the latest in skincare as an alternative to microdermabrasion without the use of crystals or diamond tips to abrade the skin. Instead, it combines the natural benefits of oxygen and water to shoot a pressurized stream of solution onto the skin. The high velocity of this procedure effectively removes dead skin cells at first contact, exfoliating and soothing the skin at the same time. Hydrodermabrasion hydrates, cleans, and revitalizes skin while supporting healthy blood circulation. Better circulation, in turn, promotes the production of collagen and elastin fibers that tighten the skin and promote a youthful look. Now, you can receive all the benefits of microdermabrasion without any of the irritable side effects!
Benefits of Hydrodermabrasion
Benefits sensitive skin that cannot undergo other forms of microdermabrasion
Decreases visibility of scarring and dark shadows
Improves blood circulation
Supports collagen and elastin production
Tightens skin
Leaves skin smooth and glowing
Uses all-natural elements and minerals
What is (RF) Radiofrequency Therapy?
Radiofrequency Therapy (RF) is a common non-invasive aesthetic procedure that uses a high-frequency alternating current to heat tissue in the dermis of the skin in a controlled and selective way to increase collagen, which consequently decreases skin laxity and photoaging. This thermal effect is so efficacious because it causes changes in collagen structure and also triggers neo-collagenesis, or the production of new collagen fibers, in the dermis and subcutaneous tissue.
As we get older, our bodies produce less and less collagen. This is why our skin becomes thinner and looser with age. Collagen is an essential protein for the skin and is the driving force behind skin becoming firmer, smoother, thicker, and more youthful. Radiofrequency therapy devices reverse signs of aging like fine lines and wrinkles by inducing tissue remodeling and replenishing depleted collagen.
How does it work?
Once the skin reaches about 107.6°F or 42°C (use an infrared thermometer), the body releases heat-shock proteins that stimulate new collagen fibers to be created. Because of the ability of radiofrequency to reach the dermal layer of the skin, the skin is made firmer while existing collagen fibers are also strengthened.
The time for new cell turnover is 28 days, so radiofrequency treatments can be repeated regularly to achieve cumulative effects. This non-invasive treatment includes absolutely no downtime, pain, or discomfort, and works wonders at turning back the clock on your skin!
Benefits of (RF) Radiofrequency Therapy?
Strengthens collagen proteins and encourages the production of new ones
Tightens and firms facial and body skin
Decreases depth of wrinkles
Extremely effective at combating mouth and forehead wrinkles
Smooths out cellulite bulges
Encourages elastin production
A great precursor to cavitation treatments due to its warming effects
Natural and safe for all kinds of skin
Reaches depths of the skin that many other skin tightening treatments cannot