Hydrodermabrasion Machine For Sale
LuxSkin hydrodermabrasion machine is the latest four-in-one facial skin care machine. It uses a h2 o2 generator to convert pure water into hydrogen and oxygen ionized water. H2 molecules can be produced on the surface of the skin, so that water molecules can quickly penetrate into the dermis. So as to achieve the effect of skin rejuvenation and natural glow, giving you a fresh face. Unique spiral suction tip, deeply cleans pores, removes blackheads, removes grease and dirt, makes the skin transparent and shiny, improves pigmentation, shrinks pores, enhance skin elasticity, rejuvenation, and more! LuxSkin is the best hydrodermabrasion machine for sale for anyone looking to purchase a quality facial skin care machine while on a budget.
Hydrodermabrasion Machine For Estheticians
Skin scrubber vibration cleaning: millions of times of high-frequency vibration, remove blackheads, remove dead skin, and whiten.
Bipolar radio frequency: "Micro current" replenishes skin energy, enhances elasticity, tightens and lifts, improves fine lines on the eyes, enhances firmness and brightens the eyes.
Oxygen (H2O2) spray gun: This instrument is combined with nutrients to produce hydrogen and oxygen, which can quickly penetrate into the dermis through high-pressure injection
Specifications:
Technology: Water facial, Microdermabrasion
Vacuum Power: 70Kpa Max
Hand Pieces: Water dermabrasion, Ion Spray, RF, Diamond dermabrasion
Operation Control: Control Panel
Electrical: AC220V/50HZ AC110V/60HZ
Ion spray: 10ML
RF Power: 10W
Machine size: 11.8in*14.9in*14.1in
Machine weight: 22lbs (Not counting packaging)
Package size: 18.1in*18.1in*18.1in
Water dermabrasion beauty machines completely changed the traditional way of cleansing the face. The old method included hand-cleaning the skin and relying on a individual's skill set. Spa skin beauty machines today use a vacuum suction system controlled by an intelligent process. Through the combination of different modalities on the equipment, beauty professionals can deep clean the skin, pores, and other impurities in a very short period of time.
Improve the deep absorption of nutrition products, promote pores tightening, smooth skin, increase skin moisture, and make your skin glow.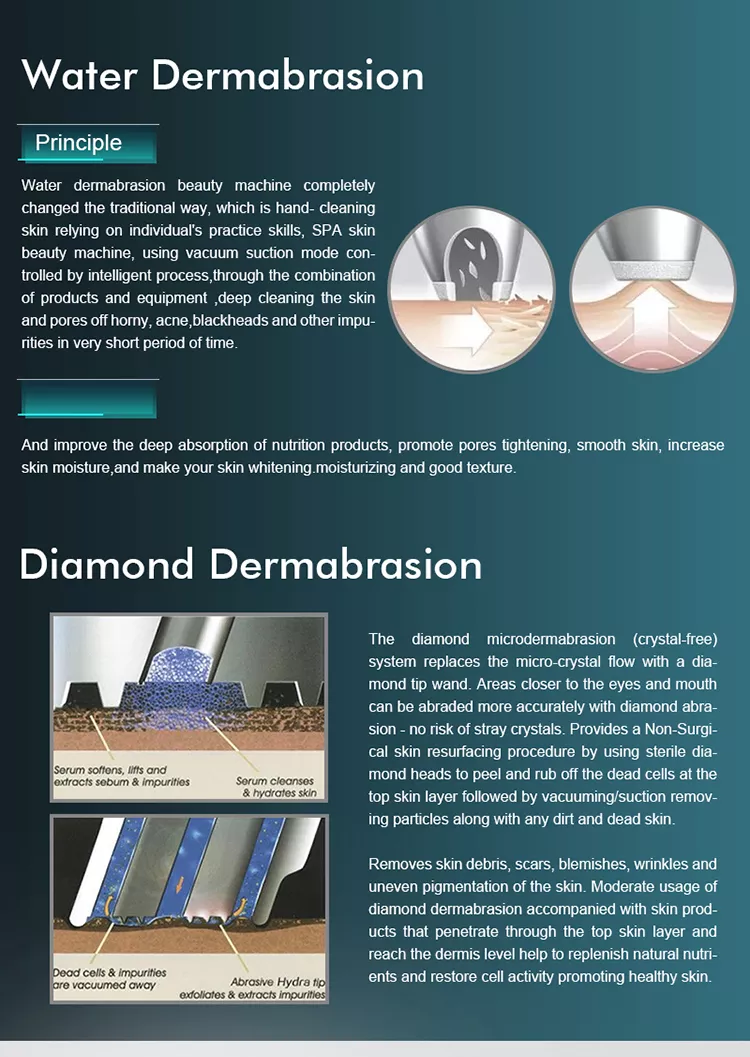 LuxSkin Hydrodermabrasion Machine
The LuxSkin hydrodermabrasion machine for estheticians (crystal-free system) replaces the micro-crystal flow with a diamond tip wand. Areas closer to the eyes and mouth can be abraded more accurately with diamond abrasion – no risk of stray crystals. Provides a non-surgical skin resurfacing procedure by using sterile diamond heads to peel and rub off the dead cells at the top skin layer followed by vacuuming/suction removing particles along with any dirt and dead skin.
This machine removes skin debris, scars, blemishes, wrinkles and uneven pigmentation of the skin. Moderate usage of diamond dermabrasion accompanied with skin products that penetrate through the top skin layer and reach the dermis level help to replenish natural nutrients and restore cell activity promoting healthy skin.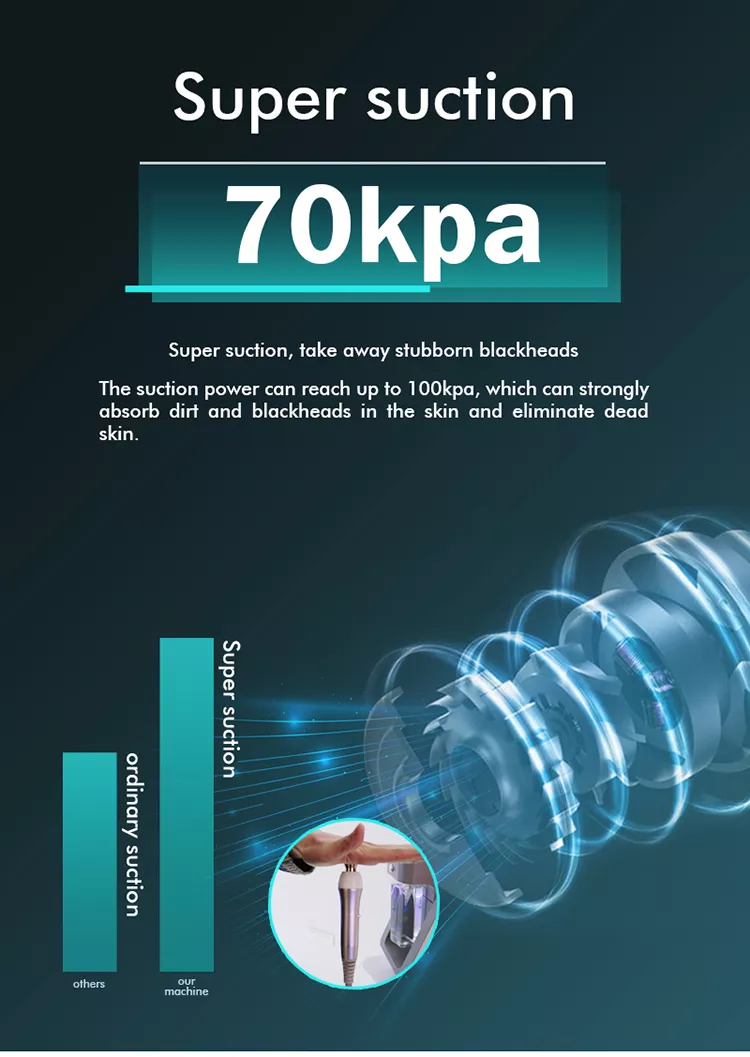 LuxSkin Hydrodermabrasion Machine Results