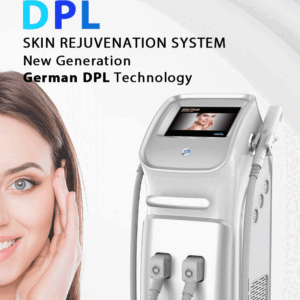 The Spectrum DPL machine uses precision skin rejuvenation technology called Dynamic Pulsed Light (DPL). DPL is a non-ablative and non-invasive treatment that incorporates Laser and Intense Pulsed Light (IPL) to treat skin conditions such as melasma and dull or tired skin. DPL beauty machine technology is able to reach into the skin's deeper layers to effectively reduce pigmentation, generating brighter, fairer skin.
The effectiveness of the Spectrum DPL machine treatment lies in its Dynamic Toning Technology or D-Light. D-Light is a new shape of light pulses that is created from a powerful combination of IPL and Laser power source. Using D-light for treating skin conditions is extremely effective and safe because of its low-fluence and high-density energy and speed.
It is also beneficial for spider veins. During laser/light therapy, a laser is applied to the spider veins. The laser transmits photons that are absorbed by the blood cells in the veins, which generates heat that destroys the blood vessel. The damaged vein shrinks and eventually dissolves over time.
Multi Functional Skin Rejuvenation Machine
The Spectrum DPL beauty machine uses delicate skin rejuvenation technology. The selected 500-600nm and 550-650nm cover the absorption peaks of pigment and oxygenated hemoglobin in the skin, which are more selective than traditional IPL, and clinical treatment can achieve better results and shorten the treatment time; Wavelength 500-600nm: Solves the problem of vascular aging and rejuvenate light skin.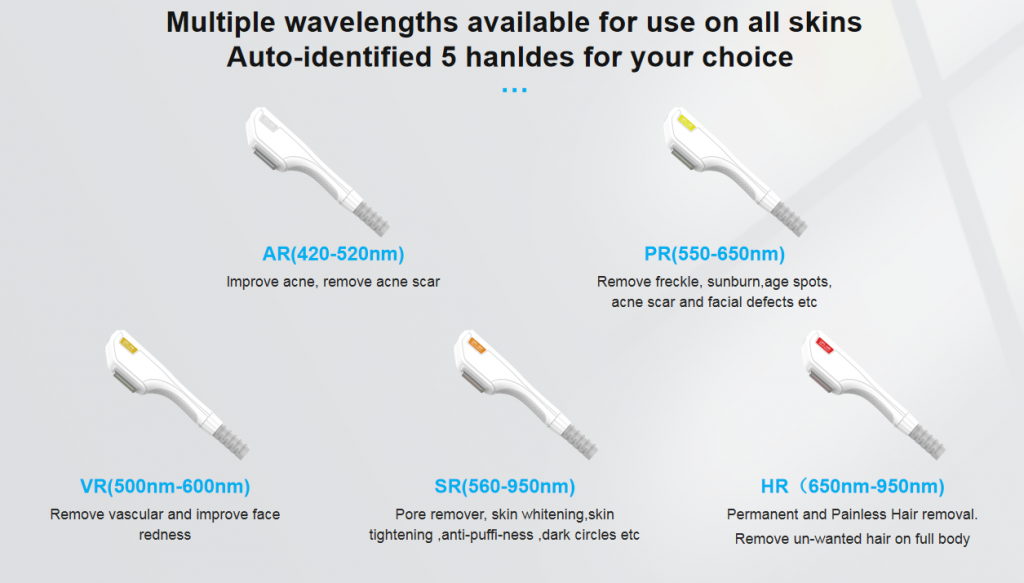 Auto-identified 5 handles for your choice
VR(500nm-600nm): Remove vascular and improve face redness
PR(550-650nm): Remove freckle, sunburn, age spots, acne scar and facial defects etc.
AR(420-520nm): Improve acne, remove acne scar
SR(560-950nm): Pore remover, skin whitening, skin tightening ,anti-puffiness ,dark circles etc.
HR(650nm-950nm): Permanent and Painless Hair removal. Remove un-wanted hair on full body
Advantages of the Spectrum DPL Beauty Machine
1. Narrow-spectrum 100nm delicate pulse light technology.
Quickly and efficiently solve the facial freckles and telangiectasia (red face) problems.
2. Core of Light Imported from Germany.
Xenon lamp is the core of energy. The light adopts German original im-ported xenon lamp which has obtained many patented technologies  around the world, and the minimum effective light emission is 1,000,000  times.
3. OPT power supply.
the energy is uniform and stable, which not only improves the comfort treatment feeling, but also maintains the high energy.
4.Multiple wavelengths available for use on all skins.
Five handles for your choice, HR, SR, PR, VR, AR.
5. In-motion technology.
Fast mode with 10hz high frequency, which speeds up the operation and reduces treatment time.
Specifications
Specification of  the Spectrum DPL Machine
Wave Length
PR:  550-650nm VR:500-600nm
Optional:( HR: 650-950nm SR: 560-950nm AR 420-520nm )
Fluence
10-50J/cm2   SHR: 1-10J/cm2
Frequency
1-10HZ
RF power
1-30W
Input Power
4000W
Power Source
Pure Sapphire
Lamp
German Imported lamp
Spot Size
10*40mm for(SR,VR,AR,PR)    15*50mm for HR
Contact cooling temperature
Max 14F
Cooling System
Built in water cooling +semi conductor cooling +air cooling
LCD Screen
10.4 inch true color touch screen control
package size
33*24*48in
Weight
219lb