MOOVE by America Cryo is a highly effective two-in-one cryotherapy and compression solution for sports recovery and pain management. It eases physical therapy discomfort by lowering pain, inflammation, and swelling while accelerating the body's natural healing process. This portable ice therapy system is easy to use in the recovery room and during patient care. When used with the right accessory or wrap, MOOVE reduces in-office recovery time, improves compliance, and boosts customer satisfaction. The MOOVE Ice Compression system is comfortable, practical, easy to use, and is guaranteed to improve recovery from sports injuries.
MOOVE Ice Compression System
Cold water, set at a therapeutic temperature, combines with compression wraps to provide pain relief. The blood vessels constrict in response to the cold, decreasing blood flow to the area and reducing edema (swelling) caused by lymphatic and venous drainage into the injured area. Similarly, muscle activity and nerve conduction are reduced resulting in decreased pain and muscle spasms. The MOOVE compression wraps provide static or dynamic pressure from 0-75 mmHg. This pressure provides a compressive or massaging effect to move and disperse fluid, reducing edema.
Ice compression helps to reduce inflammation, decrease injury risk, and accelerate healing allowing for improved recovery and decreased pain without the need for medication. MOOVE is highly recommended by Massage Therapists, Chiropractors, Physical Therapists, Sports Trainers, Professional Teams and more. Video tutorials, treatment procedures, 2 year warranty and online training is also available with every purchase.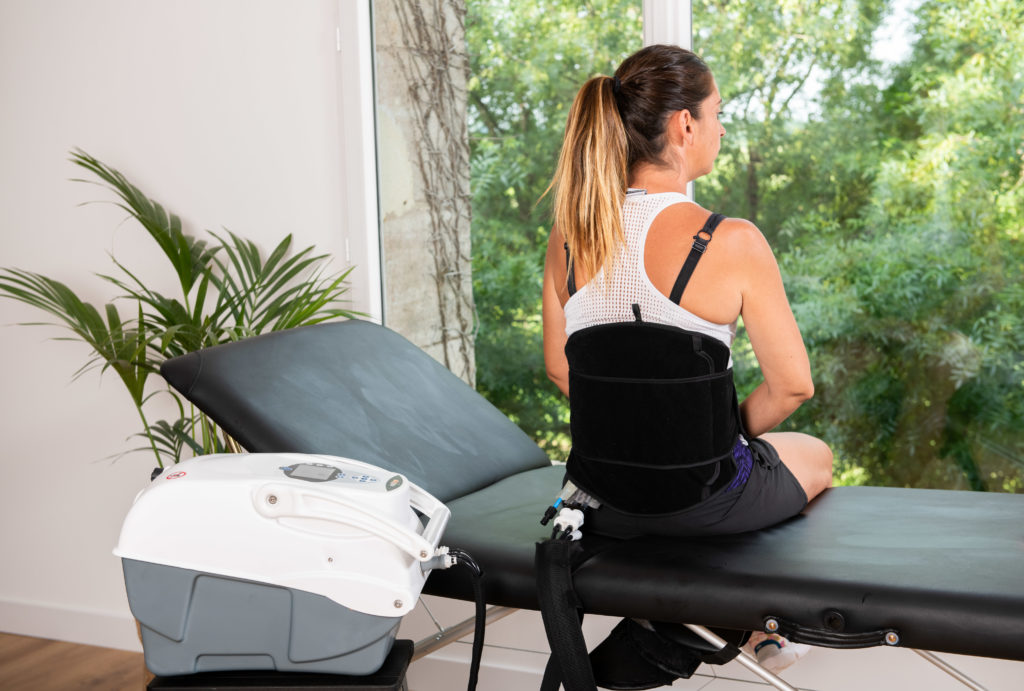 Portable Ice Therapy System Benefits
Anti-inflammatory: Reduces the temperature and metabolic rate of wounded tissue to constrict blood vessels, limiting blood flow and reducing edema.
Analgesic: Slows nerve signal transmission to decrease pain impulse transmission.
Muscle relaxant : Reduces muscle spasms and enhances pain and healing by slowing nerve activity.
Edema reductant: Ice therapy works by restricting blood supply to the area and delaying cellular metabolism, which helps to minimize edema.
Accelerated tissue healing: Improves blood, nutrient, and oxygen supply to the damaged tissue to accelerate healing.
Ice Compression System Specifications
Recovery protocols: 12 preset and 8 customizable
Weight (empty): 2.5 Kg (5.5 lbs)
Operating temperature: 1°C to 40°C (33.8°F to 104°F)
Dimensions: 115 H x 95 W x 154 L (in)
Water circulation:  Continuous, by intervals of 5 sec or by intervals of 30 sec
Software navigation: Buttons and Touchscreen
Automatic regulation of the water flow: Automatic water temperature regulation mode (patent pending). AUTO FUNCTION: comfort of the patient on insertion pathologies.
Type of pressure: Constant or dynamic with the possibility of setting the high and low pressure level as well as holding times from 0 to 75 mmHg from 5 to 60 seconds.
Water tank: Independent and can be put in the freezer for a longer cryotherapy (up to 3 hours)
Autonomy: Operates on 220V / 110 V / and / or on battery (5 hours)