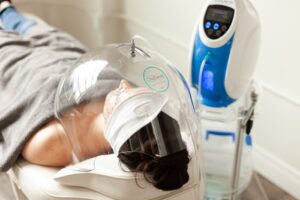 The O2toDerm oxygen dome facial machine is an essential tool for clean, revitalized skin. The top layer of our skin, or epidermis, functions as a barrier to many things that can harm us, but in the process, it also suffers the detrimental impacts of environmental pollutants. In an industrial age consumed by rampant air pollution, stress, constant technology use, and less than perfectly healthy diets, our skin is especially prone to premature aging, inflammation, and other conditions. That's where this oxygen infusion equipment comes in. This professional oxygen dome facial machine features both an oxygen dome and an oxygen infusion gun to re-energize skin cells and turn back the clock on aging as it permeates much-needed purified oxygen and vitamins into your skin. It is essential for absolutely anyone looking to get brighter, clearer, and healthier skin. This O2toderm treatment can be done as regularly as desired and may be combined with any facial or used solo.
Oxygen Dome Facial Machine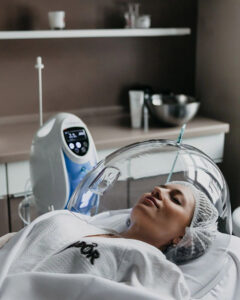 The O2toderm oxygen dome facial machine is a simple-to-use yet incredibly advanced tool that simply goes over your face, completely covering it from all sides, and works its magic. Purified oxygen or negative ions are comfortably infused into the skin, boosting the various benefits of any products applied to the skin during a facial. The professional oxygen dome facial machine works by sucking in air from the immediate environment, separating out the nitrogen, and pumping 90% oxygen through the dome to be absorbed by your skin. Not only is your skin receiving the benefits of pure oxygen, but your body is too as you breathe it in. This revitalizes your skin because every day in our environments, we are bombarded with an excess of positive ions that wear down our skin.
These cations cause tiredness, fine lines, and wrinkles, which negative ions from the oxygen dome directly combat. Negative ions are effectively used to clean the air of allergens, pollen, mold spores, bacteria, and more, and work the very same way on our skin by removing harmful pollutants. They fight against free radicals that harm our skin as well as replace damaged skin cells, which helps balance skin pH. As a result, acne-causing bacteria are destroyed, collagen production is stimulated, nutrient intake is supported, and the tone and texture of the skin is significantly improved. It is a comfortable, easy, and fast treatment that effectively refreshes and reinvigorates all skin types.
WHAT IS OXYGEN INFUSION THERAPY?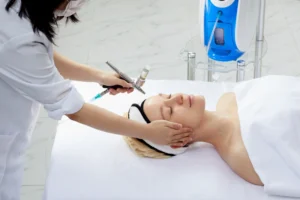 The O2toderm oxygen gun is an incredibly convenient tool that infuses a mist of concentrated oxygen and anions along with customized serums into the skin all at once. It has the same benefits as the oxygen dome, yet it is especially perfect for permeating specific nutrients and vitamins into the skin via serums. Oxygen, known as the all-natural anti-aging molecule, when combined with serums, purifies, hydrates, and brightens the face.
By re-energizing worn-out cells, your skin will automatically appear plumper and more youthful. This handpiece allows for direct control of where the mist is concentrated and allows for a closer, more intense infusion into the skin.
OXYGEN DOME PRODUCTS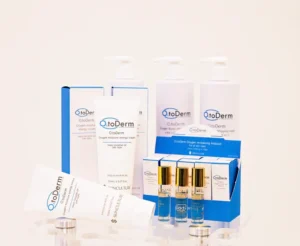 O2toDerm professional oxygen dome facial machine includes specially crafted products exclusive to this system:
OXYGEN BOMB WHIPPING MASK:
This rich and dense foam is composed of gentle peeling and cleansing ingredients that remove excess sebum and pore waste. Once mixed with water in a 1:1 ratio and applied to the skin, it cleanses pores, protects barriers to the skin, and maintains moisture. The milky formula makes skin smoother, more hydrated, and refreshed with its plethora of vitamins and nutrients.
OXYGEN ENERGY CREAM:
This lightweight, creamy moisturizer helps maintains healthy and radiant skin, revitalizes tired skin, and helps lighten the skin while reducing wrinkles & fine lines. It is composed of four vegetable oils: squalene, macadamia seed, avocado, and camellia, in addition to herbs like lavender, rosemary, chamomile, peppermint, and jasmine, which all have a plethora of benefits for your skin. The cream also includes aloe Vera leaf extract which heals and moisturizes the skin, while medical herbs like niacinamide and adenosine whiten skin and provide visible anti-aging benefits.
OXYGEN REVITALIZING AMPOULE:
These ampoules are highly moisturizing and nutritious, deeply nourishing, and moisturizing tired skin. Even after treatment, its effects are still visible as it continues to keep skin moisturized with a shiny, healthy finish. It includes aloe vera leaf extract, which protects skin and alleviates inflammation and irritation as well as speeds up any healing processes. Other nutrients like arnica flower extract help the skin regain and lock in moisture and softness well beyond use.
Pearl leaf extract provides nutrition and conditioning to promote skin elasticity and radiance in addition to preventing oxidative damage to the skin. Containing vitamins A, C, and K as well as beta-carotene, flavonoids, and tannings, the pearl leaf extract is a great absorbing ingredient that protects sensitive skin. In addition, cinnabar extract relieves skin irritation with its calming properties, in addition to preventing dryness and dullness.
PRODUCT FEATURES AND SPECIFICATIONS  
| | |
| --- | --- |
| Amount of generating oxygen | 1~5L/min , 90%~Evaporated Conversing Absorption |
| Amount of generating ion | About 300 million |
| Controlling Method | Remote controller or touch screen |
| Volume | 45db or less |
| Gross Weight | 36 lbs |
| Voltage | 120 Volts |
| Size with stand | H44' W13' |