Lumini Beauty Kiosk V2 Skin Analysis Machine
Lumini Beauty Kiosk is a smart ai skin analysis machine that is taking skincare kiosks to the next level. Thanks to artificial intelligence, the beauty kiosk is capable of scanning the facial skin, diagnosing skin problems and making recommendations based on the ingredients in the skincare products to fit the needs of the individual. The convenient, hygienic and personalized experience leverages big data and K-beauty to match people to the best solutions for their skin.
The process of collecting data about the skin only takes about 15 seconds and it looks at several factors, including pores, wrinkles, sebum, melasma, redness, acne, and oil and moisture balance, with a high degree of accuracy at 92%. The Lumini Kiosk V2 even boasts distance adjusting technology for facial recognition and features that recognize the presence of external lighting or makeup.
What Makes This Beauty Kiosk So Special?
These days people get used to a concept of AI but hardly any solution is approachable to the end consumers. Lumini Beauty Kiosk V2 smart ai system is easy-to-use for any one by simply pressing a button. It immediately provides a whole skin analysis experience in stores and recommends products and services matching the consumer's skin condition. Consumers can track their skin score records easy. With this new level of usability and data value, Lumini innovates sales and marketing of beauty industry, making AI technology available for everyone.
What's the Smart AI Skincare Assistant?
The Smart AI Skincare Assistant originally began as an internal project at Samsung but spun-off from the conglomerate in 2017 to become its own brand. Its flagship device is the Lumini, which is described as:
…the first in the beauty industry to use the artificial intelligence technology to digitize the skin. With one photo shoot, it analyzes your skin accurately within 10 seconds and recommends the best product.
The Lumini product line has been celebrated for this advancement in skincare tech, garnering accolades and awards at Cosmoprof, Viva Technology, and even CES 2023.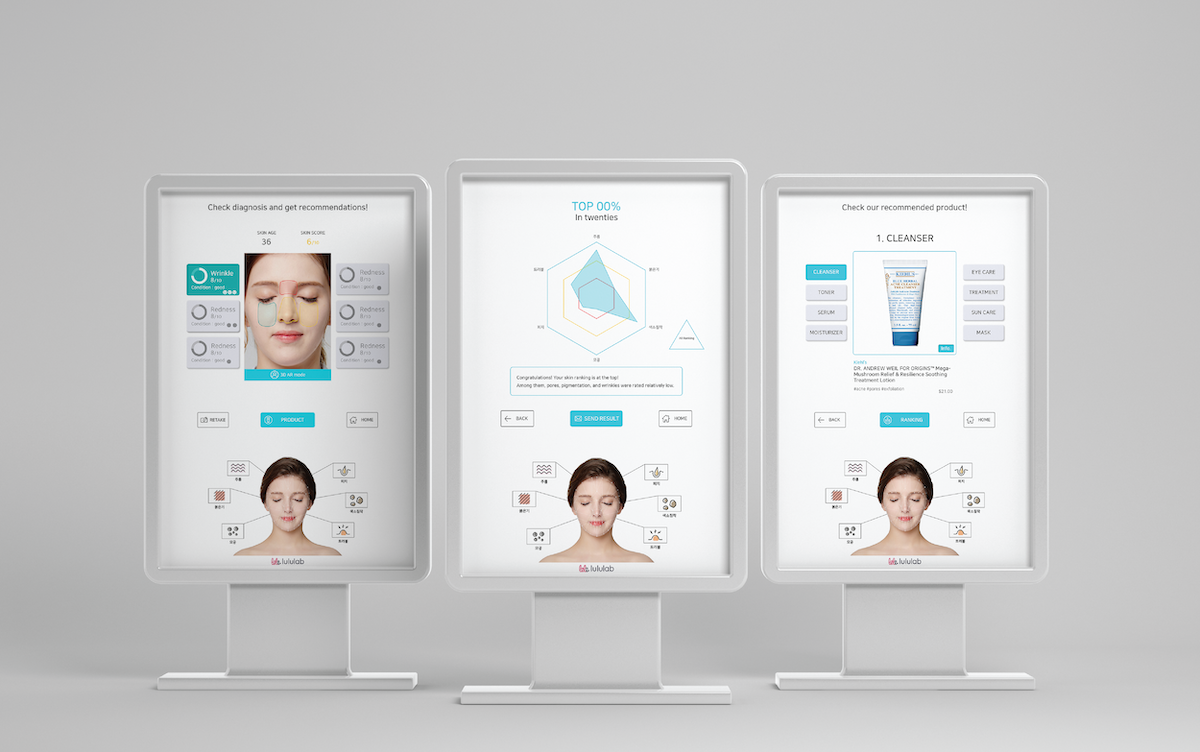 Lumini Kiosk V2
large display type measuring at 23.8 Inches
Weight 26.5 lbs. (screen only) | 72 lbs. with stand
Various customized ad solutions can be linked to increase sales
Securing instability providing wired/wireless communication
Forward skin report directly to the customers email or phone
Applicable payment system to improve online-to-offline sales
User-friendly accessories can be applied (handle, shooting guide)
Lumini Helps Increase Sales and Customer Retention
On average, the purchasing rate effectively increased up to 85% after Lumini experience, and customer satisfaction and store revisit intention went up to 89%. This shows that Lumini can be a great help for consultation for stores, and customers do want to know more about their skin and see how it changes.