It is vital to optimize post-exercise recovery to improve performance and minimize injuries in the realm of sport and exercise. Among the various methods used for recovery, two popular options have gained attention in recent years: cryotherapy and ice baths. The exposure of the body to cold temperatures in these approaches is differentiated and may lead to certain advantages. In this case study, we examine the research conducted by Laura J. Wilson, Lygeri Dimitriou, Frank A. Hills, Marcela B. Gondek, and Emma Cockburn in their 2019 study titled "Whole body cryotherapy, cold water immersion, or a placebo following resistance exercise: "A case of mind over matter?" appeared in the European Journal of Applied Physiology. Specifically, we examine the efficacy of cryotherapy/cold bath for recovery for soreness, muscle function, and inflammatory response after a resistance exercise.
Background
            Many athletes and fitness buffs are always trying to find ways of recovering faster from strenuous exercises or workouts. One of the typical consequences of hard-resistant exercises includes muscle soreness, disruptions in muscle work, and inflammation. Two popular strategies have emerged to address these issues: Whole-body cryotherapy (WBC) and cold-water immersion (CWI). Though these techniques entail exposing the body to cold conditions, the approaches and underlying physiological mechanisms are distinct.
Cryotherapy: A Deep Freeze Approach
            This is a modern technique of recovery called whole-body cryotherapy. It exposes almost all body parts to extreme cold between -110oC and 160oC. For this reason, the research took WBC at -85°C for about three or four minutes. However, proponents of WBC laud it as a solution for fighting inflammation, promoting muscle recovery, and improving general health indicators. Its claimed benefits are based on the deep coldness that causes a muscular contraction to narrow down the walls of blood vessels (Prohaska & Jan, 2018). This process is thought to narrow down the blood vessels and may inhibit muscle inflammation after exercise.
Moreover, supporters of WBC claim that quick exposure to freezing point temperature may raise the blood's capacity to move oxygen and bring more oxygen to tissues at a time. Unique to WBC is that unlike more traditional approaches to recovery like cold water immersion, it constitutes an exciting line for interested individuals seeking alternative ways of boosting physical performance and possibly muscle recovery (MacPherson & Casey, 2023). However, as with any new strategy, due diligence should be exercised by considering research and evidence currently available concerning whole-body cryotherapy.
Cold Water Immersion: The Ice Bath Tradition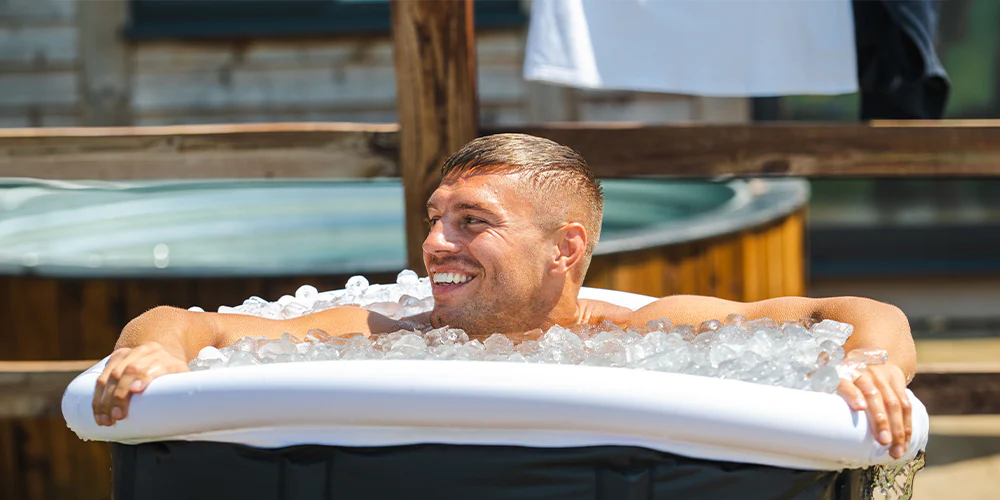 On the contrary, CWI follows an antiquated style of post-exercise recovery instead of modern WBC technology. Such a method involves placing one's body into a small amount of cold water usually kept close to zero degrees centigrade. The practice known as cold water immersion (CWI) has been used for a long time among athletes and those who are looking forward to getting rid of the consequences of physical overexertion based on a well-established tradition (Hakimi et al., 2018). Much like with cryotherapy, it has a principle vasoconstrictive basis for being thought to have some potential benefits (Villines, 2017). The theory underlying CWI is that submitting the body to cold water will cause vasoconstriction in muscular circulations, reducing the muscle's blood supply. In theory, it then reduces inflammatory reactions after training sessions.
However, CWI is said to reduce the metabolism in muscles, which can provide relief from the pain and aches resulting from rigorous workouts. It should, however, be noted that perhaps not all of the results seen in whole-body cryotherapy apply to cold water immersion, including the reoxygenation effect in the blood (Hakimi et al., 2018). Although it rests on traditional recovery practices, CWI differs from the WBC since it might lack that singular mechanism of raising oxygen carriage ability in blood (Villines, 2017). As much as possible, athletes and people who seek recovery programs should be cognizant that they can choose either conventional or novel therapies depending on their particular requirements and priorities. More and more scientific research is illuminating how these modalities compare in terms of efficacy, enabling people to choose an appropriate recovery strategy after a fitness routine.
The Study: Comparing Cryotherapy and Cold Water Immersion

Methods
            This study aimed to determine the effects of WBC and CWI upon recovery biomarkers after one bout of heavy resistance exercise specifically focused on lower limbs. The research cohort comprised 24 males with a background in resistance training, and they were categorized into three groups: whole-body cryotherapy (WBC), cold water immersion (CWI), and a control (PL) group. Each participant completed one intense resistance exercise session specific to lower body training (Wilson et al., 2018). The main purpose was to assess the efficiency of those recovery techniques for reducing the consequences after exercise, including pain, muscle functioning, inflammations, and inflow of intracellular proteins (Villines, 2017). Analyzing these parameters, this study aimed to provide new information about the post-workout recovery effects of WBC versus CWI with resistance training in intensively trained subjects.
Results
Regarding post-exercise muscle pain, some remarkable differences were found between WBC and CWI. In particular, WBC had significantly better effects in relieving post-exercise muscle soreness compared to CWI at the 24th hour of the exercise recovery period in this study among subjects who were given a choice between participating in WBC or CWI. That is, whole-body cryotherapy seems faster and more efficient in relieving pain associated with exercise than cold water immersion (Wilson et al., 2018). Villines (2017) shows that athletes looking for instant recovery from muscle soreness after intense exercises could better opt for WBC than other therapies, especially within a day of working out. In a nutshell, this understanding highlights the real use of Whole-Body Cryotherapy towards ameliorating one of the major problems during post-workout recovery, possibly improving entire training and performance processes for athletes and exercise devotees.
The research proved WBC to be an effective muscle function promoter. It was significant since it led to peak force that was more remarkable at the end of the day, forty-eight hours after the intense resistance exercises. The result of this effect was greater than what was achieved by using CWI and PL groups. These findings suggest that WBC might play a greater positive role in the Recovery of muscle function following intense resistance exercise (Wilson et al., 2018). This is a remarkable revelation with great significance for athletes and people who participate actively in vigorous physical exercises. This emphasizes why this would be superior when recovering within the 48-hour post-exercise period, which is important for restoring muscle function (Villines, 2017). WBC can, therefore, assist athletes in quickening the process of recovering lost muscle functions. This will allow them to optimize their regular routines and maximize their performances. Therefore, such results emphasize that Whole-Body Cryotherapy is a strong partner for improved recovery after severe resistance exercise.
One important finding of this research indicates that there wasn't much difference in reducing the inflammation levels between WBC or CWI groups and PL. The surprising finding also contradicts commonly held assumptions that cryotherapy, be it whole-body cryotherapy or controlled water immersion, may greatly suppress post-exercise inflammation. These cold exposure methods seemed not to affect the body's inflammatory response to resistance training (Petersen & Fyfe, 2021). Hence, this points out that the cryotherapy relation to inflammation is quite complex and calls for revising the widely held belief that these post-workout cold treatments decrease post-workout inflammatory processes. The study concluded that despite some benefits for recovery in other domains, athletes and people, in general, should use cryotherapy with extreme care since it does not necessarily help against inflammatory conditions occurring after intensive training. Such findings underscore the demand for further studies on how cryotherapy affects different physiological aspects to develop better recovery strategies.
Discussions
Research done by Wilson et al. on WBC and CWI muscle recovery is essential as it assists athletes and exercising individuals in comprehending a detailed recuperation process. The implications of these findings are far-reaching and provide an avenue for important discussions to be considered. This research highlights one critical take-home note: tremendous diversity among individual reactions to these recovery strategies (Petersen & Fyfe, 2021). However, it is important to note that those advantages did not apply to all individuals who received WBC or CWI because those studies did not produce identical results for everyone who utilized these techniques. This makes it more critical to develop custom recovery approaches. Individual post-exercise regimens require consideration of an athlete's and person's physiological response, plus recovery objectives (Villines, 2017). One size fits all has no effect and requires specific recovery methods to succeed.
However, such a surprising finding that WBC and CWI failed to provide any reduction of exercise-induced inflammations calls into question the popular belief about the effectiveness of cryotherapy for this purpose. It shows how complex the inflammation process is where different variables, such as type and quantity of exercises, affect it (Wilton et al., 2018). It re-emphasizes the view that although cryotherapy could help in some parts of the recovery process, managing the case of inflammation requires better options. The approach can be supplemented with some individual nutritional diet, sufficient sleep, or special recovery measures (Petersen & Fyfe, 2021). Exercise-induced inflammation cannot be easily addressed by cryotherapy alone. This aspect of recovery has to consider the athlete's training program and his/ her physiological reactions.
Additionally, this research showed WBC to be an effective way for athletes to regain peak physical performance, as demonstrated by peak force increasing tremendously by 48 hours following exercise. This finding is significant for most sporting disciplines as many depend highly on muscular functions and related strength. This implies that WBC has the potential to give athletes time to rest after exhausting practice or games and become a competitive advantage to them (MacPherson & Casey, 2023). In sports where athletes pursue peak performance, effective modalities like cryotherapy, especially WBC, help maintain or improve muscle function.
Individualized recovery strategies are emphasized in this study. WBC may work well with some individuals with lesser pain and enhanced muscles, but others may require other methods. This emphasizes the need for a holistic model of fitness recovery, incorporating different modalities specific to each person's response to exercise training. Diversity in individual responses to recovery strategies emphasizes the importance of tailoring recovery regimen designs for individual athletes and other performers to enhance physical fitness performance and overall wellness.
Compared to conventional cold-water immersion, one surprising quality of WBC is its ability to restore blood oxygenation (Freire et al., 2016). Such characteristics, therefore, need scientific investigations to be well comprehended on their implications and possible health benefits after a workout. This could lead to a further understanding of this reoxygenation effect's role in improving tissues' oxygen transport in athletes with a desire to enhance their performance and/or speedy Recovery. More abilities and better instruments in enhancing recovery and resilience.
Benefits of Cryotherapy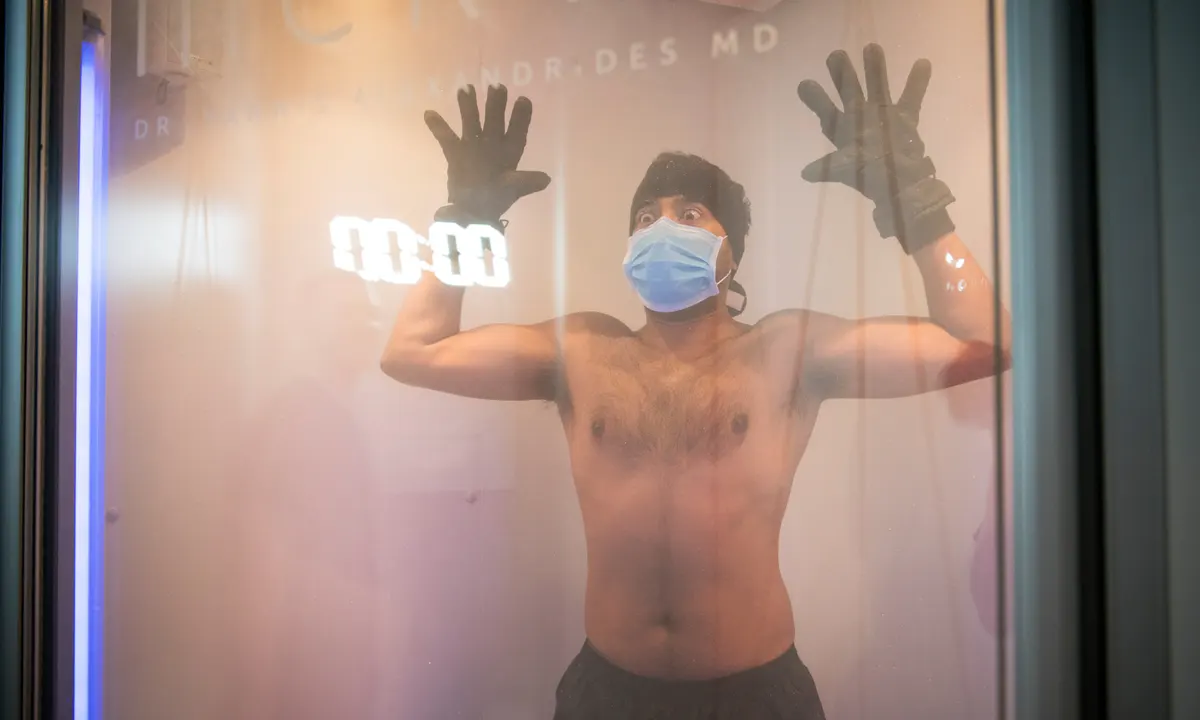 Pain and Soreness Reduction
            Cryotherapy has gained popularity over time as an effective treatment for muscle pain and soreness associated with injuries, arthritis, or chronic pain diseases. Cryotherapy involves exposing a part of the body to cold temperatures, which inhibits pain sensation, reduces inflammation, and allows for recovery (HRF, 2019). People undergo cryotherapy to ease muscle fatigue and improve health. It is also a means of pain relief for athletes and other patients suffering different types of pain. The approach is non-intrusive and easily available, which can offer relief and pain reduction from different physical pain forms, and is generally preferred due to its consolation ability.
Enhanced Athletic Performance
            Cryotherapy can boost recovery time for athletes and, therefore, enhance their overall athleticism. The quicker recovery time permits the athlete to undertake higher frequency and intensity of workout regimens – one that contributes much to their success. Athletes will experience less post-athletic exercise pain, allowing them to maximize recovery and build greater strength, endurance, and speed, making them better athletes (HRF, 2019). Cryotherapy, as an enhancer of recovery, helps athletes optimize their training to be better at sports and thus achieve greater success.
Muscle Recovery
            It is often preferred by athletes, especially after taking part in strenuous workouts and/or competitions. Cold adaption reduces inflammation and promotes early muscle healing (MacPherson & Casey, 2023). Such faster recovery helps athletes remain active in training and play better, making cryotherapy an important element of post-exercise muscle recovery programs.
Weight Management
            Some indications include that regular cryotherapy sessions might support metabolic increase and help burn calories (HRF, 2019). The impact may be important to people who would love to stay in a trim, fit, and wholesome state.
Improved Blood Circulation
            Improved blood circulation increases general well-being as a result of cryotherapy. The enlarged blood flow enables better transport of oxygen and other important nutrients to body organs (MacPherson & Casey, 2023). Improved blood flow leads to boosted vitality and better tissue repair, making cryotherapy an adequate option for those looking forward to a holistic method of health care and healing.
Immune System Support
Those supporting cryotherapy believe this could strengthen their immunity, making them less vulnerable to sickness and disease. It is a proposed mechanism that the body could elicit as a reaction to cold and which may generate immune-enhancing components. These claims are yet to be confirmed, but it is worth noting that cryotherapy can influence the immune system. The potential advantage fits the broader objective of healthy living, but people must be cautious while consulting a doctor before using cryotherapy as a substitute immune stimulator.
Drawbacks of Cryotherapy
Costly
            One notable drawback of cryotherapy is its expense. Access to cryotherapy chambers or sessions may not be affordable for everyone. Many commercial cryotherapy centers charge a substantial fee for each session, and the costs can add up, especially if individuals seek regular treatments as part of their fitness or recovery routine (HRF, 2019).
Not Suitable for Everyone
Cryotherapy may not be appropriate for people who have some medical conditions. For example, people suffering from Raynaud's disease, hypersensitivity to the cold wind, and circulatory problems can react negatively to cold (Gary, 2022). They should seek advice from a medical practitioner before undertaking cryotherapy to confirm its safety and suitability.
Discomfort and Pain
            Some people will consider cryotherapy comfortable or amusing, while others could consider it very painful and unacceptable. Different kinds of sensations can occur at extremely low temperatures, usually between -110 degrees Celsius and -160 degrees Celsius, like cold, burning, or discomfort. Moreover, people can also get some skin irritation or redness because of this extremely low temperature (HRF, 2019). Pain tolerances for cryotherapy sessions vary, depending on whether one has a low tolerance to cold; the time spent during the process also matters.
Benefits of Ice Baths

Reduced Muscle Soreness
            The ice baths have been famous for relieving pain from muscle soreness following exercise. This arises due to the utilization of cold temperatures that, in turn, initiate various body reactions. Vasoconstriction is a process that happens immediately when one enters a pool with cold water. This serves an important purpose as it minimizes inflammation of involved muscles (Kummer, 2022). Additionally, it helps reduce the buildup of lactic acid, another product of strenuous exercise usually associated with muscle pain. Instead of making things worse, like lactic acid buildup and increased inflammation, an ice bath will be a soothing and restoring agent for muscle soreness, thus allowing one to heal faster and with less pain. To sportsmen and other fitness addicts, this has immense benefits, for they will not have time delays when moving from one exercise session to another, and their training sessions will always be carried out in the best possible conditions.
Enhanced Muscle Recovery
            The effectiveness of cold-water immersion is popularly known as "ice baths," which boosts muscle recovery after demanding workouts. There are multiple ways in which this swift recovery occurs. The first way that cold temperature does help the muscles is by causing vasoconstriction, thereby restricting the blood vessels. This leads to reduced swelling. It also helps reduce the microtrauma that occurs when one experiences intensive exercise (Menna, 2023). This significantly speeds up the healing process and helps people restore muscle activity faster; therefore, it shortens the time of downtime between training sessions. In particular, this reduces the muscle recovery period between workout sessions and provides an opportunity for many athletes and fitness enthusiasts to train more frequently and intensively without fear of sustaining injuries due to overtraining.
Pain Relief
            A common form of therapy that has long been proven effective at relieving great amounts of pain, particularly in people who suffer from inflammatory and chronic pains like arthritis, is an ice bath. Such profound cold exposure is the main cause of this pain-relieving effect. Such cold temperatures cause numbness in nerve endings, thus resulting in the weakening of pain sensation. Ice baths are a potent, natural method of handling pain that involves hitting the nervous system directly (Kummer, 2022). Chronic pain sufferers are especially affected by this, finding relief and the chance to improve their lives. Such effects as pain relief or increased comfort contribute greatly to improving general health for those who suffer from constant pain or fatigue. Using ice baths, in this case, is worthwhile because of this.
Improved Blood Circulation
Ice baths are characterized by submerging the whole body in cold water, which triggers a dynamic mechanism that is highly significant in blood circulation within one's body. It starts with vasoconstriction, the contraction of blood vessels that, for a short time, reduces the blood flow to the skin's surface. Then follows an expansion in which the blood vessels widen again after the first constriction. The sequence of vasoconstriction and vasodilation is very critical as far as total blood circulation is concerned. It increases circulation in the body by boosting blood flow at all parts of the body (Menna, 2023). This increased circulation improves the supply of oxygen and vital nutrients to different body parts, thus promoting their general well-being. Enhanced blood circulation will provide energy, enhance the tissue repair process, and improve the whole interconnection mechanism in the organism.
Drawbacks of Ice bath

Discomfort and Pain
However, it may be uncomfortable or even painful to immerse one's body in cold water for certain people. Extreme cold temperatures may result in feelings of numbness, burns, pain, and other associated symptoms among patients (Living, 2019). Discomfort levels differ among people and may be influenced by factors such as their ability to tolerate coldness and the duration of the cold-water immersion process. People could also develop rashes and redness when exposed to these sub-zero temperatures.
Hypothermia Risk
Prolonged exposure to extremely cold water in ice baths can increase the risk of hypothermia, a potentially dangerous condition where the body's core temperature drops too low (Healthline, 2019). Monitoring the duration and temperature of ice baths to prevent this risk is crucial.
Not Suitable for Everyone
            Some people may have medical conditions or skin sensitivity that won't allow them to take ice baths. For instance, people with heart problems, breathing complications, and cold hypersensitivity may suffer from severe side effects from exposure to very low temperatures (Menna, 2023). However, it is prudent to have an expert in medical matters determine the suitability of ice baths for you.
Expense and Accessibility
            Ice baths, especially those controlled by temperatures, might not be easy to get and afforded by all (Living, 2019). A single session at such commercial institutions offering an ice bath service might be costly, and frequent visits may also be expensive.
Time-Consuming
Ice baths can be time-consuming. Preparing the bath, immersing the body, and warming up afterward can take significant time, which may not be practical for everyone's schedules. Therefore, with this drawback it makes it difficult to adopt this intervention.
Conclusion
            Cryotherapy and ice baths have their pros and cons when it comes to recovery and general health. One example is whole-body cryotherapy, which may relieve the pain more quickly than usual and even reoxygenates the blood, a unique feature. However, old-fashioned ice baths reduce muscle soreness, allow muscle recovery, and relieve pain, especially in inflammation and pain-related disease cases. Nevertheless, responses to such approaches may differ greatly, underscoring individual recovery plans. On the other hand, the study contradicts the perception that cryotherapy significantly lowers post-exercise inflammation, which highlights the complex aspects of inflammation control. WBC is regarded highly by athletes as it shows improvement in muscle functions, which promises a quick way back to top form for such athletes. As for cryotherapy instead of ice baths is a matter of personal preference, requirements, and tolerance. However, athletes and people pursuing various rehabilitation options must be sure of the peculiarities of the specific cases and the possible benefits or even opposite effects with a doctor's assistance. When applied appropriately, these approaches can significantly enhance recovery, improve well-being, and maximize performance as part of tailored regimes.
References
Freire, B., Geremia, J., Baroni, B. M., & Vaz, M. A. (2016). Effects of cryotherapy methods on circulatory, metabolic, inflammatory and neural properties: a systematic review. Fisioterapia Em Movimento, 29(2), 389–398. https://doi.org/10.1590/0103-5150.029.002.ao18
Gary. (2022). The effects of cold exposure training and a breathing exercise on the inflammatory response in humans: A Pilot Study. Information for Practice. https://ifp.nyu.edu/2022/journal-article-
Hakimi, M. H., Salleh, S. M., Ainul, H. M. Y., Ngali, M. Z., Ismail, A. E., Rahman, M. N. A., & Mahmud, W. M. A. (2018). Ice bath therapy on athletes' recovery response using EEG. International Journal of Engineering and Technology, 7(4.3), 438-442.
Healthline. (2019). Ice bath benefits: Research, tips, and more. Healthline. https://www.healthline.com/health/exercise-fitness/ice-bath-benefits#takeaway
HRF. (2019). 15 cryotherapy pros and cons. HRF. https://healthresearchfunding.org/15-cryotherapy-pros-and-cons/
Kummer, M. (2022). 10 reasons why you should take ice baths every day. Michael Kummer. https://michaelkummer.com/health/ice-bath-benefits/
Living, A. (2019). Pros and cons of ice baths. Aqua living factory outlets. https://aqualivingstores.com/pros-and-cons-of-ice-baths/
MacPherson, R., & Casey, A. (2023). Cryotherapy: Benefits, safety and what to expect. Forbes Health. https://www.forbes.com/health/wellness/cryotherapy/
Menna, M. (2023). Benefits of ice bath: What could they help with? VeryWellHealth. https://www.verywellhealth.com/benefits-of-ice-bath-7568914
Petersen, A. C., & Fyfe, J. J. (2021). Post-exercise cold water immersion effects on physiological adaptations to resistance training and the underlying mechanisms in skeletal muscle: A Narrative Review. Frontiers. https://www.frontiersin.org/articles/10.3389/fspor.2021.660291/full
Prohaska, J., & Jan, A. H. (2018). Cryotherapy. https://europepmc.org/article/nbk/nbk482319
Villines, Z. (2017). Cryotherapy: Safety, what to expect, and Benefits. www.medicalnewstoday.com. https://www.medicalnewstoday.com/articles/319740
Wilson, L. J., Dimitriou, L., Hills, F. A., Gondek, M. B., & Cockburn, E. (2018). Whole body cryotherapy, cold water immersion, or a placebo following resistance exercise: a case of mind over matter? European Journal of Applied Physiology, 119(1), 135–147. https://doi.org/10.1007/s00421-018-4008-7