The Most Powerful, Energy Efficient & Automated Full-Body Red Light Therapy Bed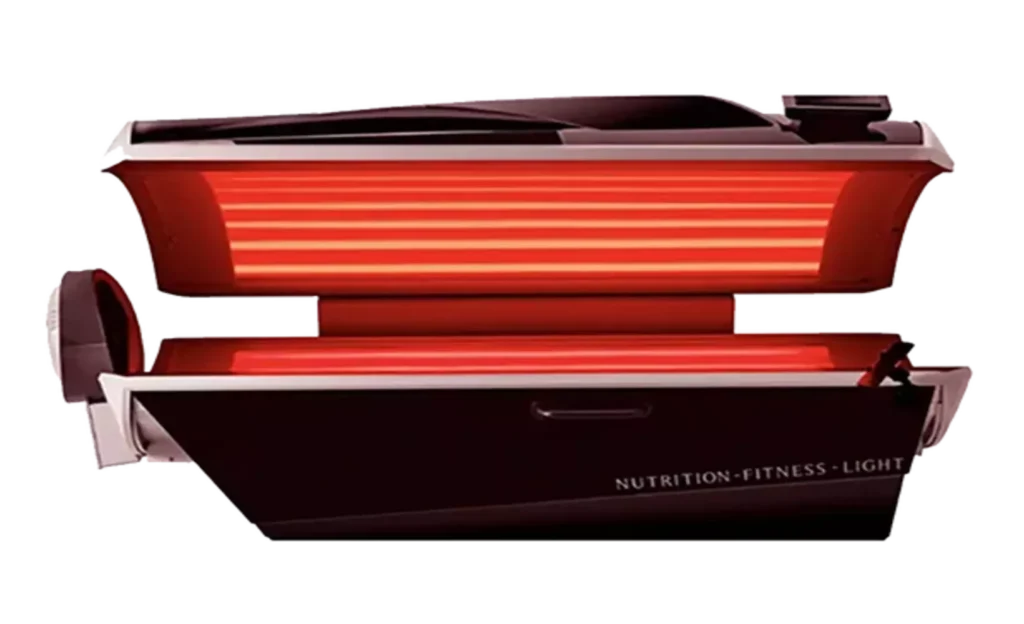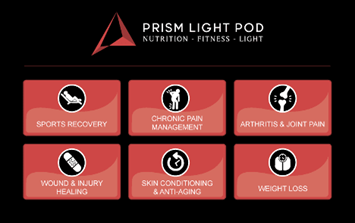 Prism Light Pod maximizes 360 degrees of energy production & mitochondrial-wellness with the innovative design of our full-body red light therapy bed. With more than 17,000 630nm, 660nm and 850nm 100 milliwatts per centimeter square red and near-infrared LEDs, our LEDs sit closest to the body when compared to all other red light beds delivering the deepest light wave penetration producing maximum ATP energy and mitochondrial wellness. It's ideal for reducing inflammation, chronic pain, producing collagen and shrinking fat cells naturally.
Prism Light Pod photobiomodulation therapy sessions are 15-minutes, fully-automated with six-optimized settings that are designed for users with Prism's unique "One-Button" operation. Prism Light Pod is the only full body light bed in the industry to support a standard 110V electrical power that will save you thousands of energy-cost over its 15-year life. Leading resort spas, salons, day and med spas are implementing Prism Light Pod to rejuvenate their customers and keep them healthy and active.
Product Features
Most Powerful & Award-Winning
Prism Light Pod is the most-advanced and powerful photobiomodulation light pod in the industry delivering:
● Lux-Life's most-powerful red light bed product excellence award for 2021 and 2020
● Deepest red light penetration. LEDs are closest to the body at 1/2 inch away from the surface
● Maximum 100 milliwatts per centimeter squared of red light irradiance
● 17,000 630nm, 660nm and 850nm red and near-infrared industrial-strength red LEDs
● 360 degrees of optimized mitochondrial-healing with 30% more irradiance
● (6) Optimized wellness settings for 100% "Unattended" use that automatically times out after 15-minute sessions
● Patent-pending software and power-distribution
● 5-year limited warranty on the frame and 2-year on all electronics
Six-Optimized Settings
Prism Light Pod is 100% unattended, user-operated and no administration is required. There are six optimized photobiomodulation therapy irradiance settings; a mix of frequencies and intensities for 95% of client use-cases, so you don't have to be an expert in photobiomodulation.
Simply schedule 20-minute appointments; 5-minutes to change and  15-minute automated sessions for:
Performance Recovery
Reducing Chronic Pain
Faster Injury & Wound Healing
Soothing Arthritis & Joint Pain
Promoting Anti-Aging & Skin Toning
Weight-Loss Management
Most Energy-Efficient
Prism Light Pod is the most energy-efficient red and near infrared light therapy bed in the industry and the only one to support 110V standard electricals while delivering maximal light wave irradiance.
Our unique software and patent-pending power distribution technology allow us to be the most-powerful and the most energy-efficient photobiomodulation light pod saving you thousands of electrical cost over the 15-year lifespan:
Plugs into a standard 110V electrical outlet (U.S. and Canada)
Supports 220V internationally
Pulls a maximum of 17 AMPs of peak energy
Supports a standard 20 AMP dedicated circuit breaker
Includes multi-speed oscillating fan for patient comfort
All other competitor's light beds require 220V and consume 30-44 amps of electricity, costing you thousands of dollars more than the Prism Light Pod.
Dimensions
The Prism Light Pod is designed and built with industrial-strength, ergonomics, and visual appeal. You have your choice of black or white color pod and includes co-branding with your company logo at no extra cost.
Customers find it highly-attractive with dimensions at 92″ length x 44″ width x 48″ high (when the top is opened). It fits within a 9×9 ft or 8×10 ft room with standard HVAC venting or a 3-quarter floor to ceiling wall and a standard 32" door.
Industrial steel frame with heavy-duty spring suspensions (not hydraulic poles that fail every 2-3 years)
Light Pod weighs approx. 500 lbs.
Supports up to a 400 lbs. person
Includes an LED display console
Built-in oscillating fan for user comfort
Built-in iPod/iPhone holder for music
Includes protective eyewear and acrylic headrest
Will be professionally delivered and installed onsite by two Prism Light Pod certified technicians
15-Year Life
The Prism Light Pod is designed with world-class industrial-strength, reliability and serviceability. Our red light therapy beds are 100% designed and hand-assembled in Denver, CO, USA. It is designed for self-repair and parts replacement. It comes with a limited 5-year warranty on the frame and 2-year warranty on all parts. Each light pod has an estimated 15-year commercial life:
Industrial LEDs with a 100,000 hour MTBF, 15-year life
Durable high-strength steel frame
Electrical circuitry, power distribution & LED burned-in and quality-tested for 120-hours
No EMF emissions
8×5 M-F support via email, text, video & telephone hotline by live USA technicians
48-hour best-effort labor parts and service warranty included
Prism Light Pod is available in white with co-branding. Other colors are available for additional cost.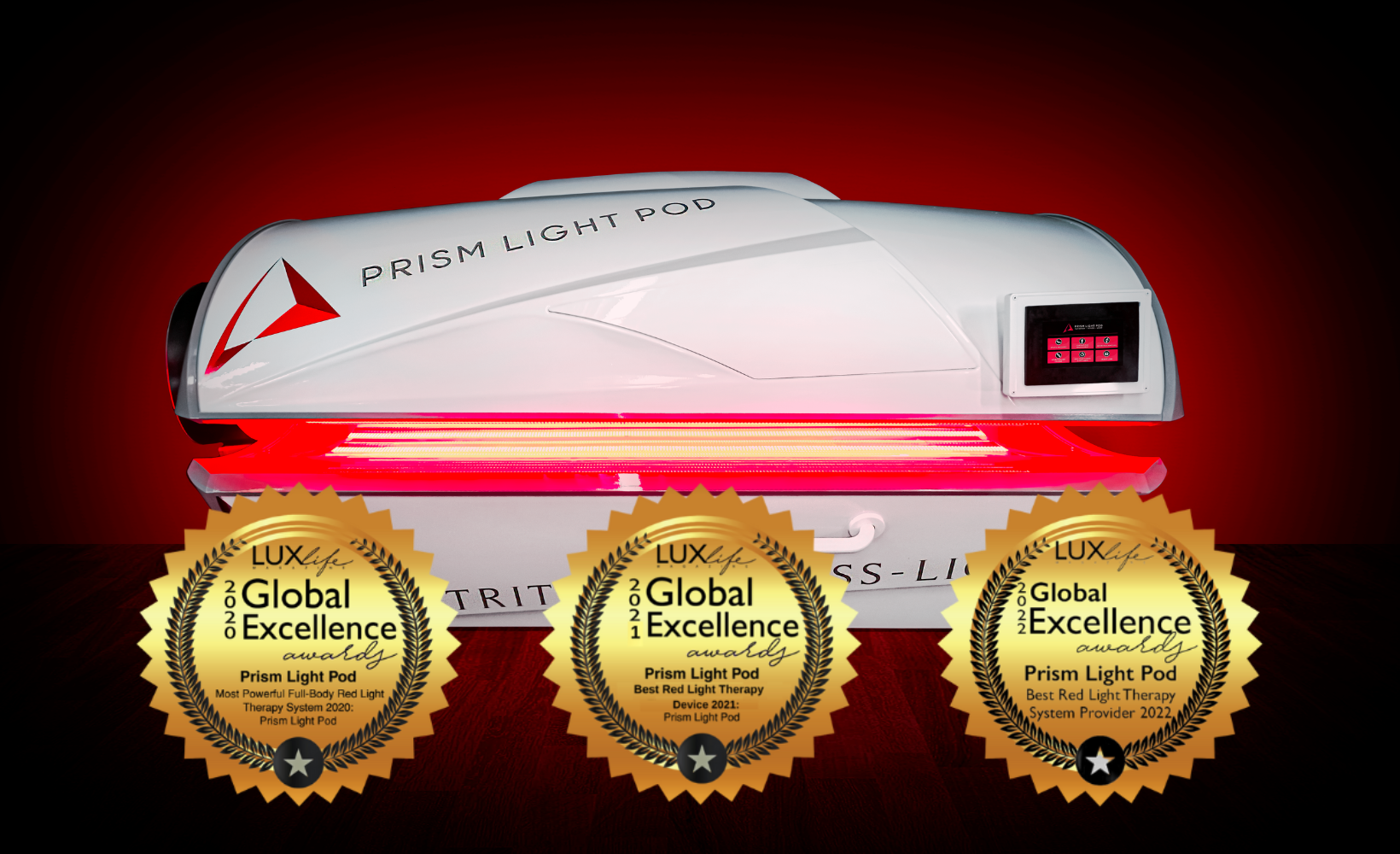 Red Light Therapy Marketing Program
Our in-house Prism Pro-Partner joint-marketing and co-branding program, a $10,000 value is included with every purchase of a Prism Light Pod for commercial owners because we are committed to your success in the natural wellness industry. The CEO was a former Chief Marketing Officer (CMO) & VP of Marketing at Fortune 100 world-class, high-technology companies. With more than 40 years of global marketing and product engineering experience, Prism Light Pod is the only whole-body red light therapy bed manufacturer in the industry to include a customized in-house marketing & natural-wellness consulting program.
They provide a Pro-Partner joint marketing program, complete with co-branding, web-content, marketing collateral development, social media, and launch event support with the purchase of each Prism Light Pod for commercial business owners. The Prism Pro-Partner Program also includes a 90-Day Fresh Start holistic nutritional program at no-cost to owners for them to generate $200,000-$400,000 of unattended passive stream of income per year.